A Fan-Operated Science Fiction and Fantasy Literary and Filk Convention in the Dallas/Fort Worth Area

What do you call it when it's more than a costume contest, more than a concert, and more than a bunch of amazing acts sure to delight? It's the FenCon Cabaret, of course!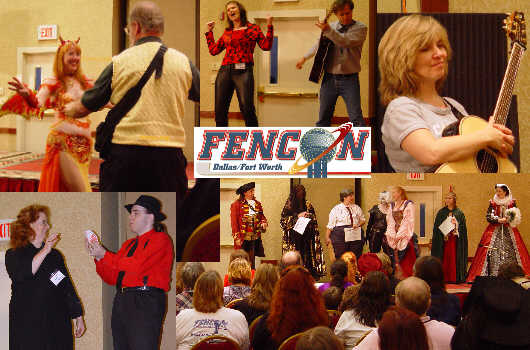 Scenes from our 2004 Cabaret and Costume Contest
Our acts are booked and the Second Annual AFSGDH* line-up is outstanding. We can't reveal the whole lineup yet (we're sworn to secrecy) but it includes Ravenar (Julia Mandala and Linda Donahue), the Generic Radio Workshop, and more! This year's Saturday night shindig looks to surpass last year's, if such a thing is possible.
We still have plenty of spots open in our costume contest. If you want to participate, please contact us at cabaret@fencon.org to reserve your spot. There's a form to fill out which will be available at Registration as you pick up your membership packets.
* All-Star Git-Down Filk-Sing Hootenanny™, of course.
Want more information? Please fill out this form and you will be contacted as soon as possible by our dedicated and hard-working cabaret staff.
Last updated 18 August 2005
Text and images Copyright 2003-2005 by Dallas Future Society, Dallas, Texas.
FenCon is a production of the Dallas Future Society, a not-for-profit organization dedicated to the advancement of science, literature, and music for the future of all mankind.
Enjoy privacy? Read our privacy policy.